Adjustable Bed Frames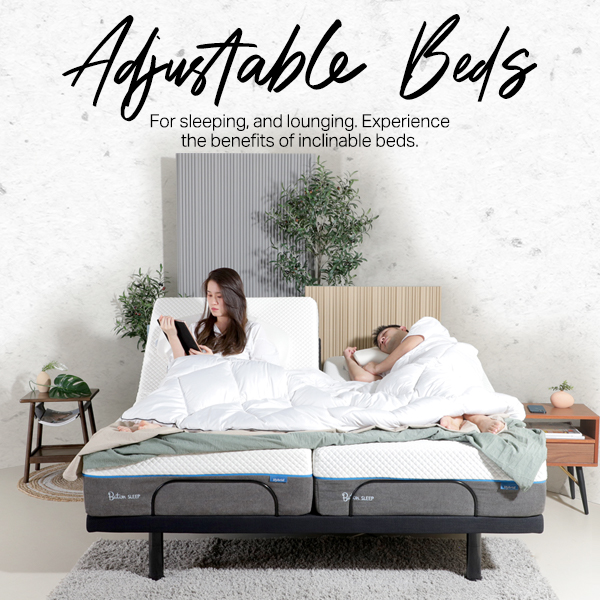 Get Personalised Comfort and Better Sleep with Adjustable Bed Frames
At the end of a busy day, there's nothing quite like sinking into a bed that's tailored to your needs. Adjustable bed frames offer the promise of a truly personalised comfort experience, not just for sleep but for your overall wellbeing. Let's explore the world of adjustable bed frames, and discover more about why you need an adjustable bed frame, how to choose the right one for your needs and more!
What are the benefits of an adjustable bed frame?
Adjustable bed frames offer a wide array of benefits for individuals of all ages, from those seeking relief from aches and pains to expectant mothers and nursing mothers as well as active athletes. Let's explore some of these benefits:
Enhanced Sleep Comfort: Adjustable bed frames allow you to find the perfect sleeping position for your comfort, reducing tossing and turning during the night.
Alleviation of Shoulder and Back Pain: Adjusting the bed's position can help relieve back pain and provide better support for your shoulder and spine.
Reduced Snoring: Elevating the upper body slightly can reduce snoring and alleviate sleep apnea symptoms.
Improved Circulation: Raising your legs can promote better blood circulation, reducing the risk of swelling and discomfort.
Personalised Comfort: Adjustable beds offer tailored comfort, allowing you to read, watch TV or work in bed with ease.
Aid for Medical Conditions: These beds are beneficial for individuals with conditions like acid reflux, arthritis, frozen shoulder, or mobility issues.
Reduced Pressure Points: Adjusting the position can distribute weight evenly and reduce pressure on joints and muscles.
Independence: They provide independence for people who may struggle to get in and out of a traditional bed.
Aids Nursing: Night feeds can be a little more enjoyable when nursing mothers don't have to prop themselves up.
Even if you don't have any of the above mentioned issues, an adjustable bed frame's ergonomic features and positions can help to fine-tune your sleeping position to prevent future problems with your spine's alignment. Did you know that your sleeping position can affect how well your body recovers and repairs itself as you sleep? Check out our article on What Is the Most Optimal Sleeping Position on an Adjustable Bed? to find out more!
How do I choose the right adjustable bed frame size?
When it comes to selecting the perfect size for your adjustable bed frame, start by considering the dimensions of your bedroom. Take into account whether a single, super single, queen, or king-sized bed would best fit the space. Measure your room in advance and decide on your preferred mattress size. If you're fortunate enough to have ample room for a king-size bed, you even have the flexibility to choose between two single mattresses or a single king-size mattress!
Can I use my existing mattress with your adjustable bed frames?
To ensure the optimal fit and performance of our adjustable bed frames, we advise checking the compatibility of your existing mattress with the specific frame model. It's important to note that certain mattresses, like Bonnell spring mattresses, may not be suitable for use with an adjustable bed base. In such cases, we recommend considering memory foam or pocket springs mattresses, which offer greater flexibility and can better accommodate the movements of an adjustable bed base. Of course, you can't go wrong with a Baton Mattress. Don't just take our word for it though, come check out our adjustable bed frame and Baton mattress selections at our physical store and take both home for the best sleep of your life!
What should I consider when choosing a bed frame to match with my adjustable bed base?
When it comes to choosing the perfect adjustable bed frame, you'll want to consider a few essential factors.
Comfort: Decide whether you prefer the luxurious feel of a cushioned headboard, which provides additional support for your head and upper body, or if a simpler base suits your relaxation needs.
Durability: Look for materials and construction that can withstand the demands of your lifestyle, ensuring that your bed frame remains in excellent condition for years to come.
Style: Adjustable bed frames come in various styles to complement your bedroom decor. The sleek platform (divan) bed frame provides a clean and contemporary look, while an upholstered bed frame adds a touch of luxury and elegance. Open-frame designs create a modern and airy feel, catering to various aesthetic preferences.
Convenience: Our adjustable bed frames are designed for ease of use with their remote-controlled features. While this technology allows you to adjust your bed's position effortlessly, it requires electricity to function. Hence, it's essential to ensure that there is an electrical socket within 3 metres of the bed for seamless operation.
Are the bed frames noisy when adjusting positions?
In terms of adjusting positions on our adjustable bed frames, you'll be pleased to know that noise won't be an issue. We've designed our bed frames with a focus on ensuring the quietest and smoothest operation possible, guaranteeing a peaceful sleeping environment for you.
How do I clean and maintain my adjustable bed frame?
Before cleaning your adjustable bed frame, consider its material. For wooden or metal frames like open-frame styles, wiping them down with a damp cloth would be sufficient. However, upholstered frames would benefit from periodic vacuuming to retain their pristine appearance.
Whether for health benefits, enhanced relaxation, or the luxury of tailored comfort, adjustable bed frames can significantly enhance your sleep experience. These versatile additions to your bedroom offer a more personalised and restful night's sleep thanks to their ergonomic features. Explore Comfort Furniture's range of adjustable beds to discover the perfect balance of comfort and convenience today.
READ MORE