Janelle Adjustable Bed Frame – Queen
Our Adjustable / Inclinable Bedframe adapts to your sleep needs – not the other way round.
With just a click of a button, you get to enjoy a comfortable sleep by adjusting the head-up and foot-up features of the bed – lift your head to reduce snoring and raise your feet to alleviate joint pain. Experience weightless floating comfort in Zero Gravity position while sleeping or lounging. The astronauts have done it, so can you! Explore endless number of sleeping positions with our Benita Bed, adjust to the perfect position for your most comfortable sleep ever and say goodbye to sleepless nights!
Upgrade to the Benita Adjustable Bed with confidence with our 10-year structural warranty and 5-year motor warranty.
---
Pair the Benita Adjustable Bed with the Janelle Bed Frame to take the aesthetics of your bedroom up a notch. Janelle is a light-coloured wooden bed frame that features a distinctive design on its cushioned headboard. Not only is it a Scandi-minimalist beauty, it's super comfy too!
Up Close & Personal
Functional BeautyExperience the benefits of an adjustable bed without compromising on style with this piece that combines the best of both worlds.
Scandinavian StyleFeaturing light-toned wood and warm grey fabric textures, this bed adds homey vibes to the bedroom, making it perfect for a deep slumber.
Raised LegsThe raised legs provide space to make cleaning under the bed easier - even a robot cleaner can easily pass through!
Padded HeadboardReminiscent of the herringbone patterns, the unique design of the headboard adds an exquisite touch to this wooden bedframe.
Gastronomic ExperienceThe bed's ability to elevate the backrest up to 60 degrees is helpful to improve digestion and to reduce acid reflux symptoms.
Way of LifeIndulge comfortably in other lifestyle activities such as reading, catching up on your favourite show or leisurely scrolling through social media.
Rejuvenated SleepHave a go at the zero-gravity position that helps to distribute weight evenly and keeps your spine in a neutral position to release tension build-up in your body, resulting in a more restful slumber.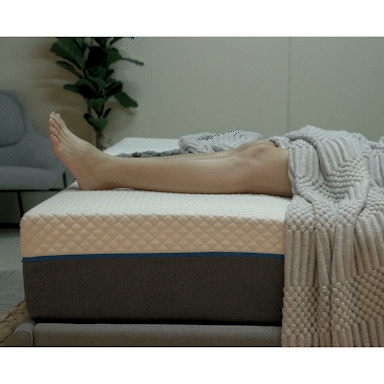 Prop It UpExperts recommend raising the legs while sleeping to reduce swelling and pressure at the legs, especially for pregnant ladies or those who stood up for most of the working day.
Imagine It How It Can Accentuate Your Space
Product Specifications
Measurement(s)
Overall size:
OW1590 x OD2015 x OH1005
IW1520 x ID1900 x LH 155 x FH360

Retainer Bar:
W500 x D130 x H160
Acronyms
OW - Overall Width
OD - Overall Depth
OH - Overall Height
SW - Seat Width
SD - Seat Depth
SH - Seat Height
AH - Arm Height
Thk -Thickness
Dia - Diameter
IW - Internal Width
ID - Internal Depth
IH - Internal Height
LW - Leg Width
LD - Leg Depth
LH - Leg Height
WH - Wood Plank Height
FH - Footboard Height

For all our office chairs, Arm Height (AH) and Overall Chair's Height (OH) is taken when Seat Height (SH) is fixed at 450mm. Should an office chair's SH be higher than 450mm, then AH and OH will be taken at the lowest available SH of that chair.
* All measurements given are in millimetres (mm).
Q&AAny Questions? We are here to help!
Ask a question
Ask us question about this product. You will be notified via email when replied.
You need to log in first before asking question. Login now