Comfort Acrylic Shield - W900 + Access Hole
Protect your employees and customers from the potential spread of COVID-19 with minimal impact on your interior's aesthetics. The Comfort Shield in acrylic is transparent, preventing visual blocking and allowing stains to be spotted easily. Comes with a stable self-standing capability, the shields can be placed at any table easily and stably; making it great for transient places. No drilling, no blue tags, no accidents - The Comfort Acrylic Shield is your perfect tool for enforcing safe distancing. Our table shield allows businesses to remain open as staff are protected and customers are assured. Implementing shields will be the new normalcy for how companies should operate. Download the PDF Catalogue: click here.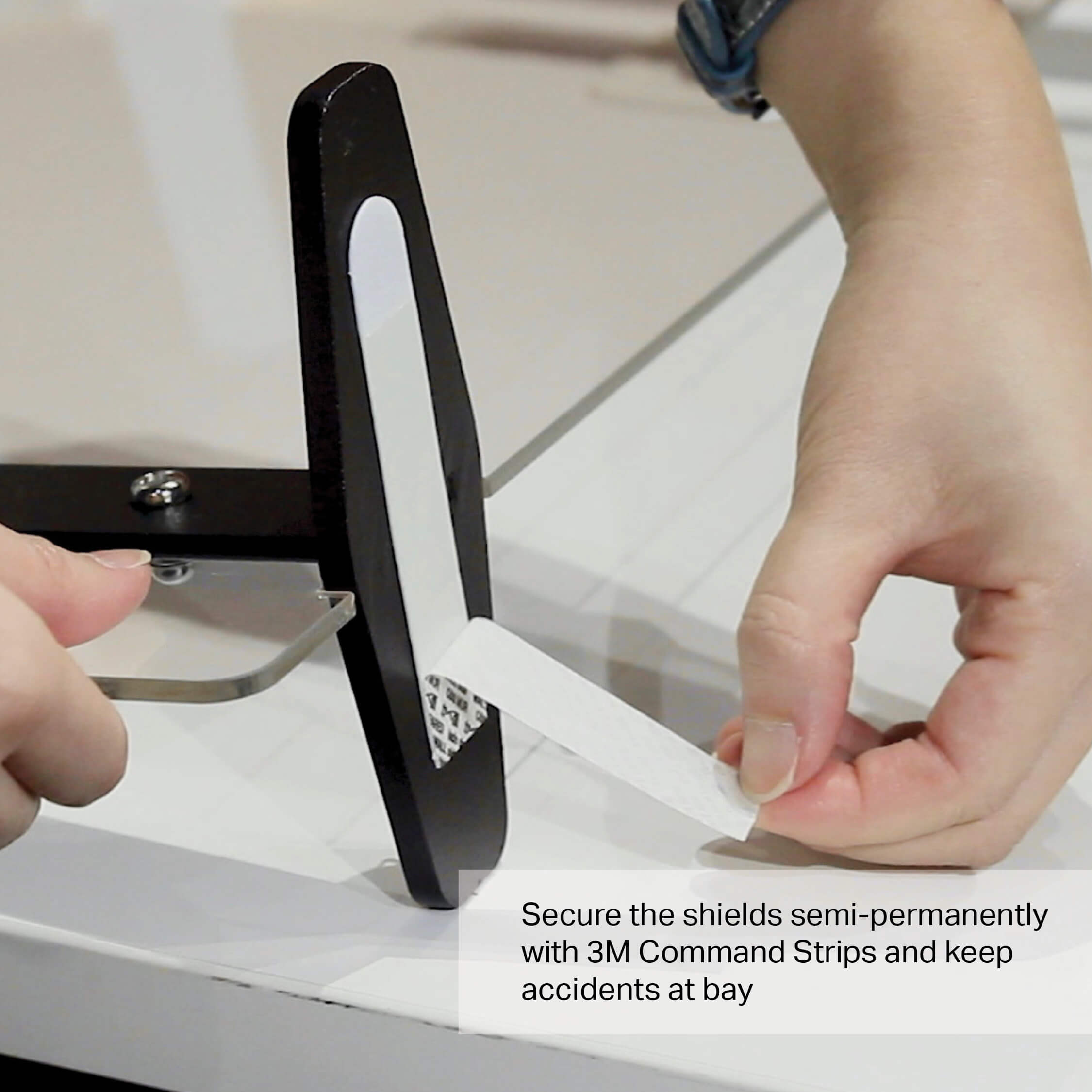 • Great for reception counters, cashiers and other counters with frontline staff
• Great for restaurants, especially on communal tables
• For staff pantries
• On office workstations where staff typically sits within close distance to each other
• For libraries, hospitals, banks, schools, dormitories, etc.
Acrylic Shield Intro
Earliest Self Collection + Buy online & pickup in store the next working day.
Our friendly team will help customers to load bulky furniture items into their cars.
Wednesday, 23 Sep 2020
Earliest Delivery
Tuesday, 29 Sep 2020
Date correct as at:

21 Sep 2020, 03:17 PM
Features
Comes with 2 flat, metal feet design that ensures minimal obstruction in user's daily activities
Stable, heavy, metal base also ensures that the shields are well-supported and doesn't topple easily
Optional: Apply 3M Command Strips for a semi-permanent setup and to ensure shields will never fall
Easy-to-clean. Sanitisers (alcohol & non-alcohol versions) can be used
Doubles as a writing board and post-it board. Great for employees at workstations to stay on top of their tasks and for restaurants to list their daily menu
Portable - can be removed or added to tables easily
Doesn't require drilling onto tables
This version comes with access hole for minimal open contact
Sizes are customisable. Pls enquire to find out more
Material(s)
Clear Acrylic Shield with Steel Base
Measurement(s)
W900 x D140 x H600
The acrylics are 4mm thick
Access Hole size:
W550 x H110mm
Remarks
Size and design are customisable. Pls email us to find out more.
Acronyms
W - Width
D - Depth
H - Height
SH - Seat Height
AH - Arm Height
SW - Seat Width
SD - Seat Depth
OW - Overall Width
OD - Overall Depth
Dia - Diameter
Sq - Square
Thk - Thickness

For all our office chairs, Arm Height (AH) and Overall Chair's Height (H) is taken when Seat Height (SH) is fixed at 450mm. Should an office chair's SH be higher than 450mm, then AH and H will be taken at the lowest available SH of that chair.
* All measurements given are in millimetres (mm).