Earliest Delivery
Pls click individual option(s) for date info.
Tuesday, 03 Oct 2023
Date correct as at: 03 Oct 2023, 09:10 AM
Jake Trundle Bed Frame
Get the best of both worlds with the Jake Trundle Bed Frame, a true-blue space-saving solution that maximises flexibility and functionality.
Fully upholstered with soft polyester fabric, this bed frame is ideal for households with children, or for accommodating guests. Taking up the space of only a single bed when not in use, Jake has a pull-out trundle that's easy-to-operate, thanks to its smooth-moving castor wheels. The lower bed can be easily pulled out on either side of the bed frame for flexible bedroom arrangement - think, another room, maybe...?
The lower bed is generous in size as it allows mattresses of up to 230mm thickness to fit in. No use for a second mattress? Fret not! The trundle bed can be re-utilised as a storage space instead. With the convenience of the pull-out mechanism, you can easily hide away bulky items - like bed linens and blankets - and still have easy access to them.
Need more reasons? The castors of the trundle bed is raised 50mm, allowing slim side tables, like our Standby Table, to be slotted under the bed for greater convenience!
Up Close & Personal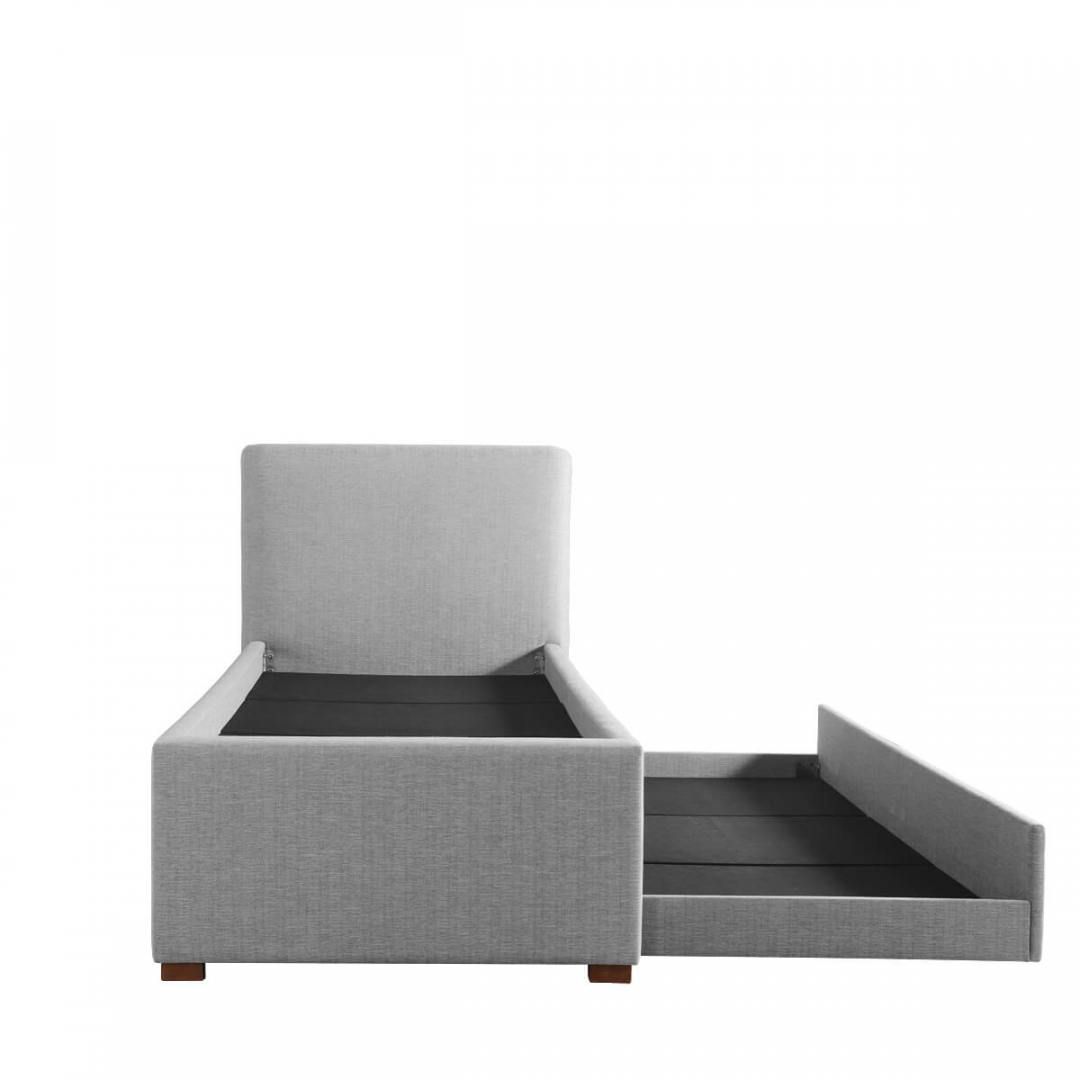 Two For OneAn efficient two-in-one-situation that takes up the space of a single bed when not in use, but can accommodate two people.
All The Right PlacesYou can choose to place one side of the bed against the wall or have it in the middle of the room - either way, it's a space-saving solution.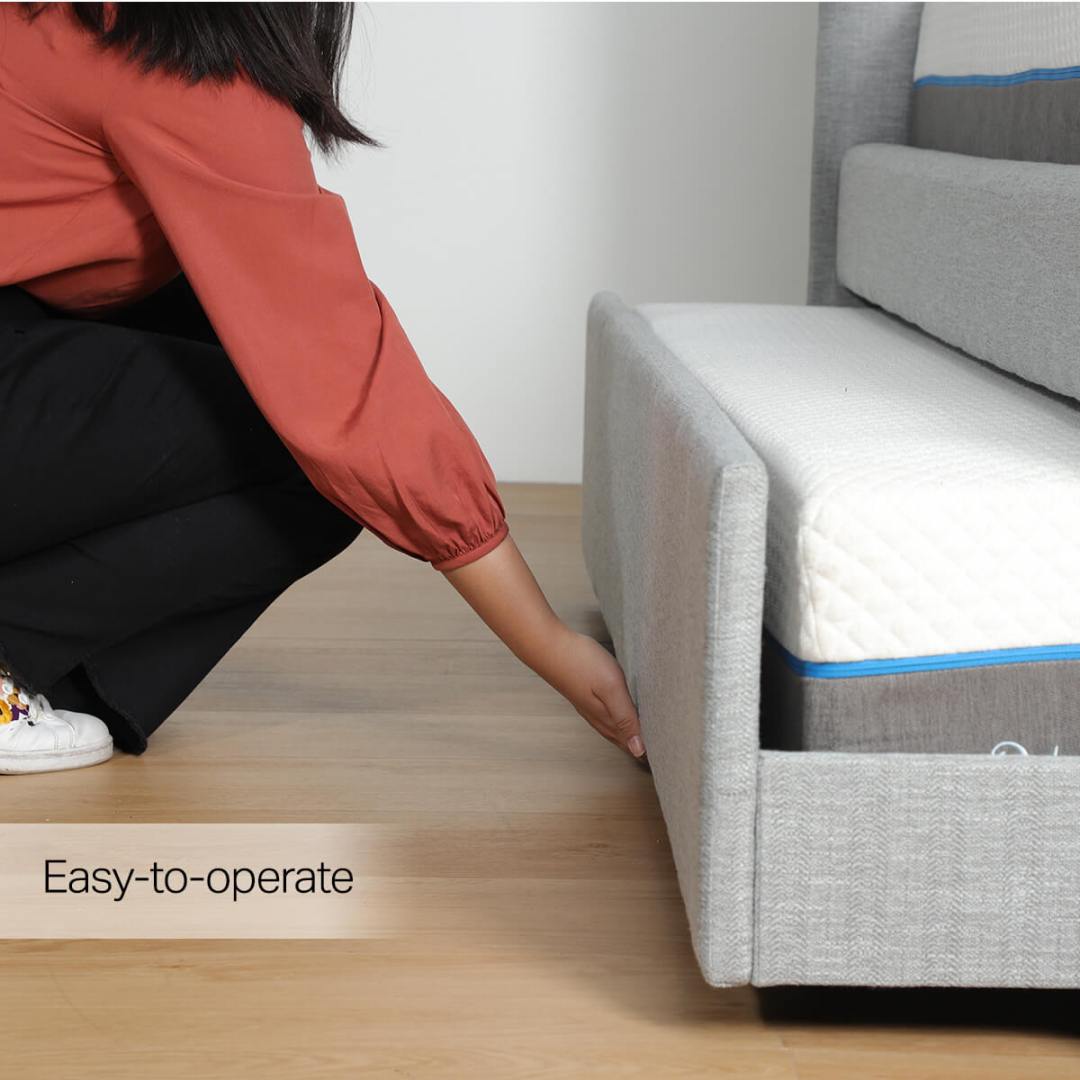 User-FriendlySmooth castor movements make it easy to pull out the lower trundle bed with just one hand.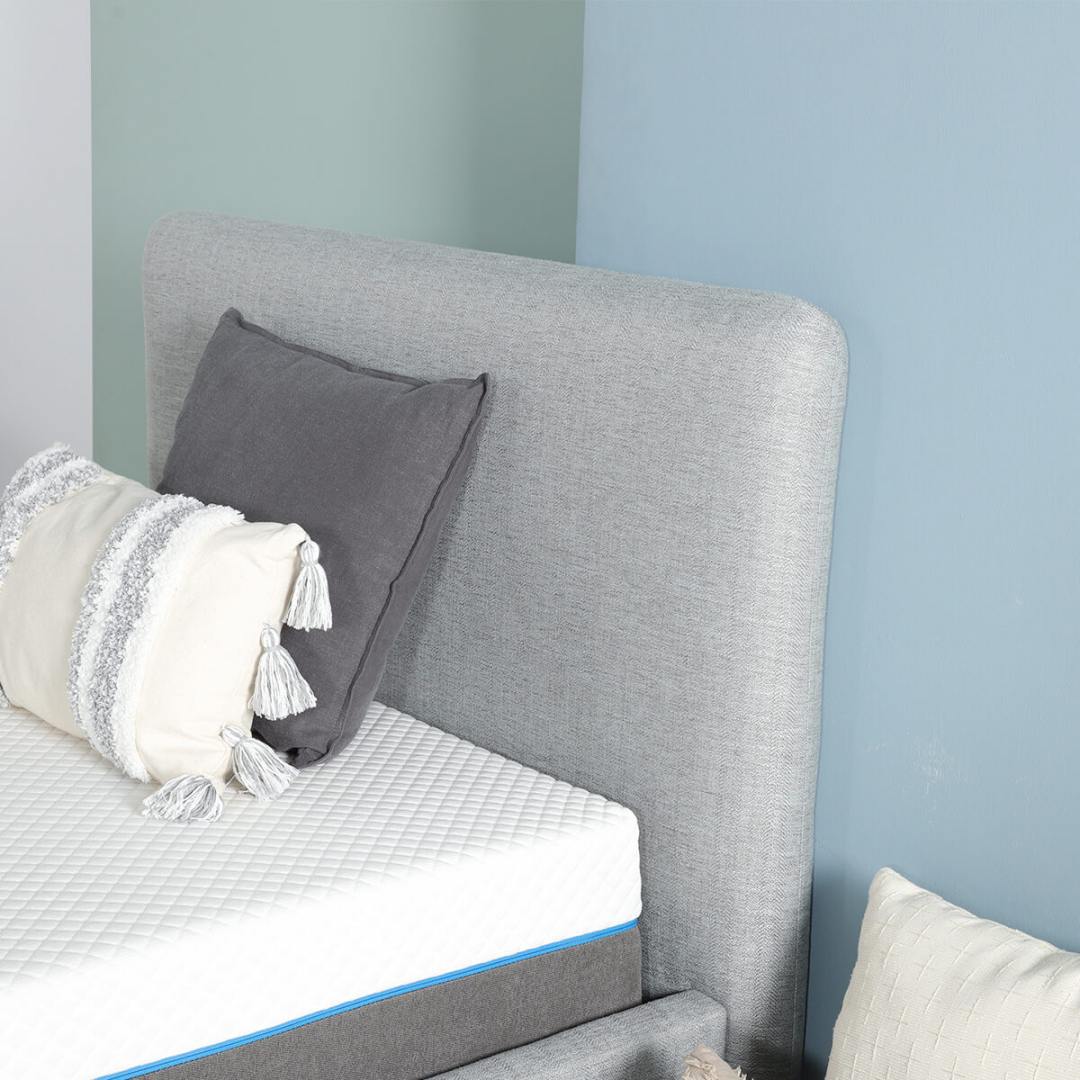 Minimalist ChicPlush fabric upholstery all around to exude a warm, cosy atmosphere that's perfect for a deep slumber.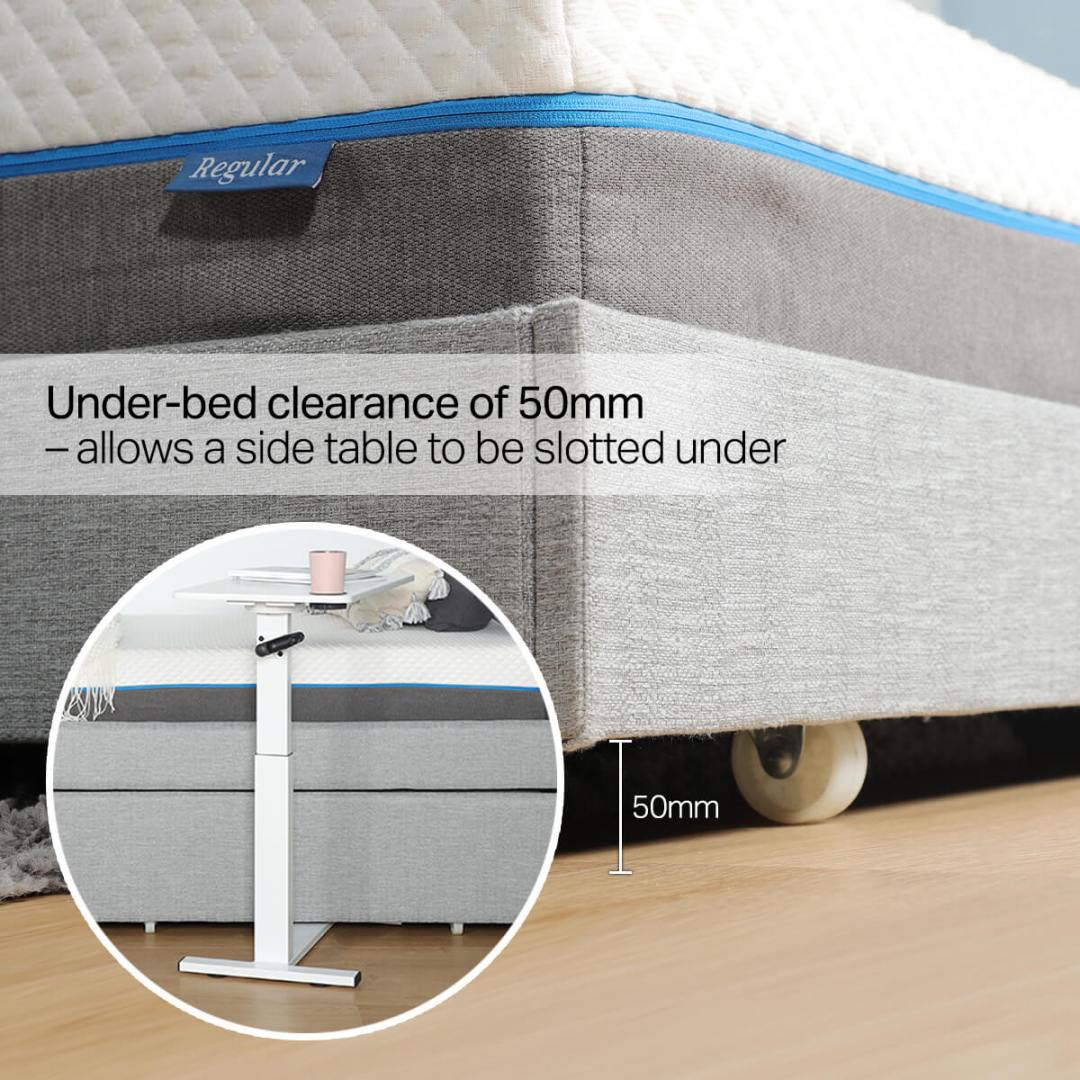 Bridge the GapComes with castors that raise the bed with a 50mm clearance, allowing slim side tables to be slotted in.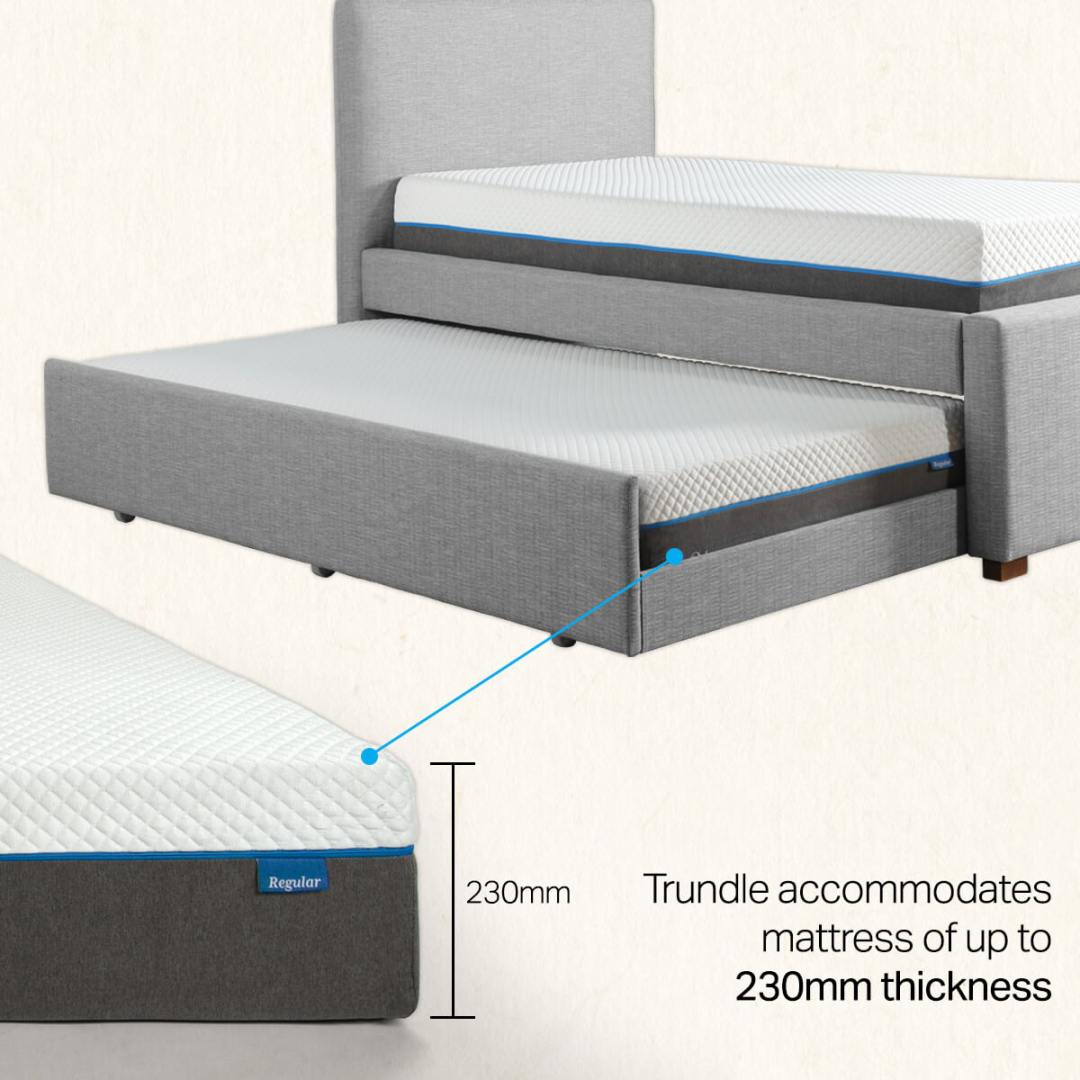 Plush GoodnessThe trundle bed fits our Baton Sleep's Regular mattress to a tee with its 230mm internal height clearance.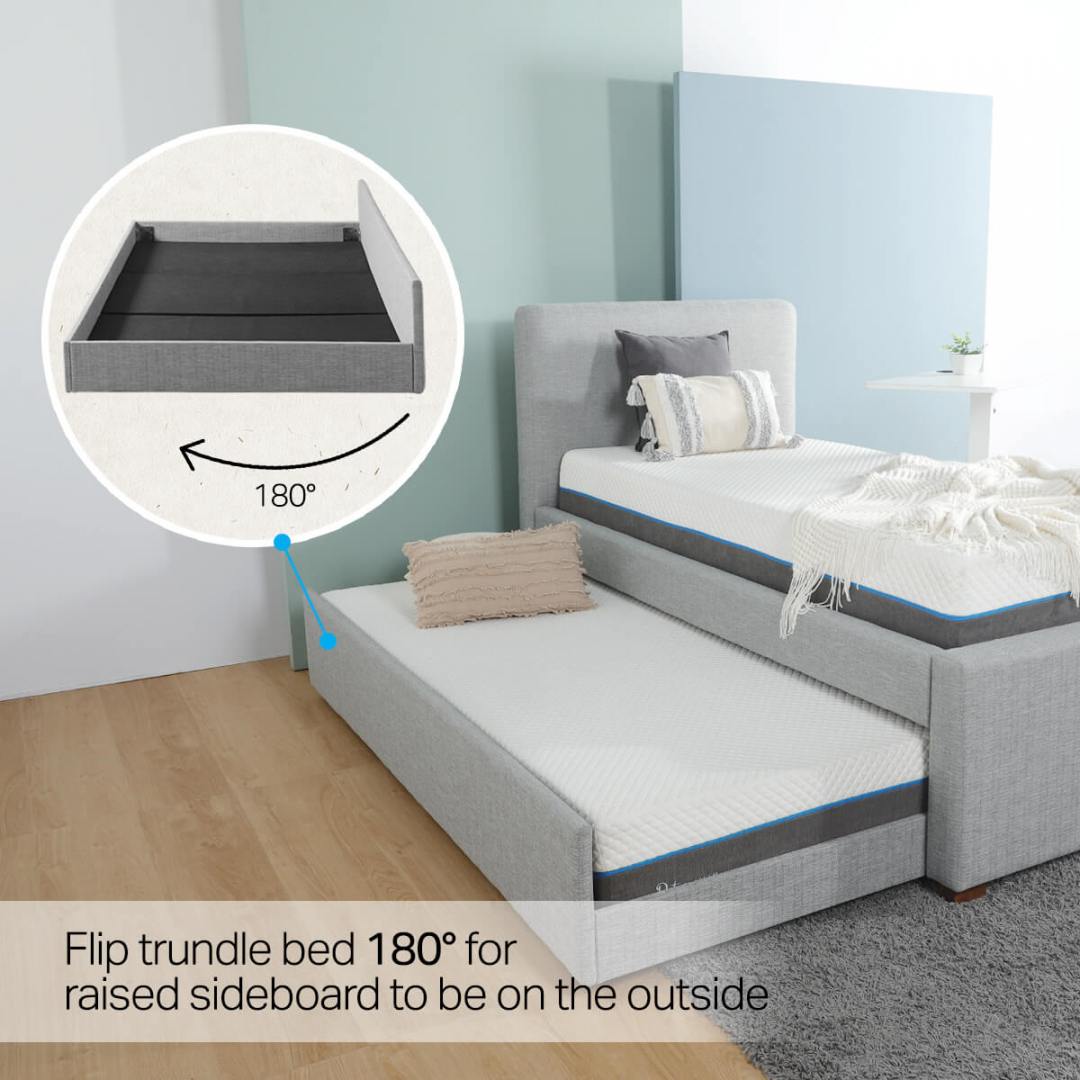 Hidden AwayHide away the lower trundle bed using the raised sideboard on the outside.
Every Inch CountsThe sleek, compact design of the bed minimises space wastage, making every inch of your room space count.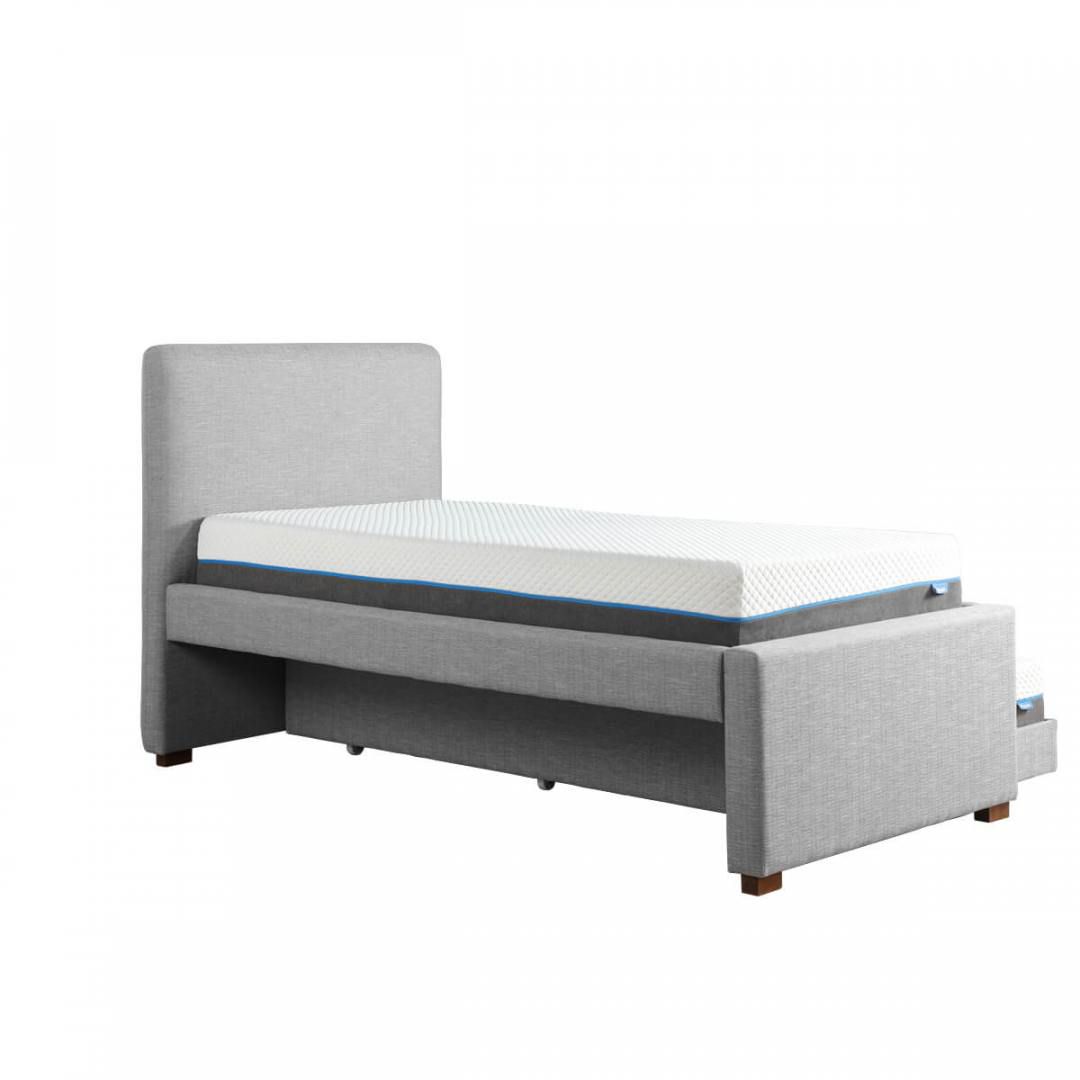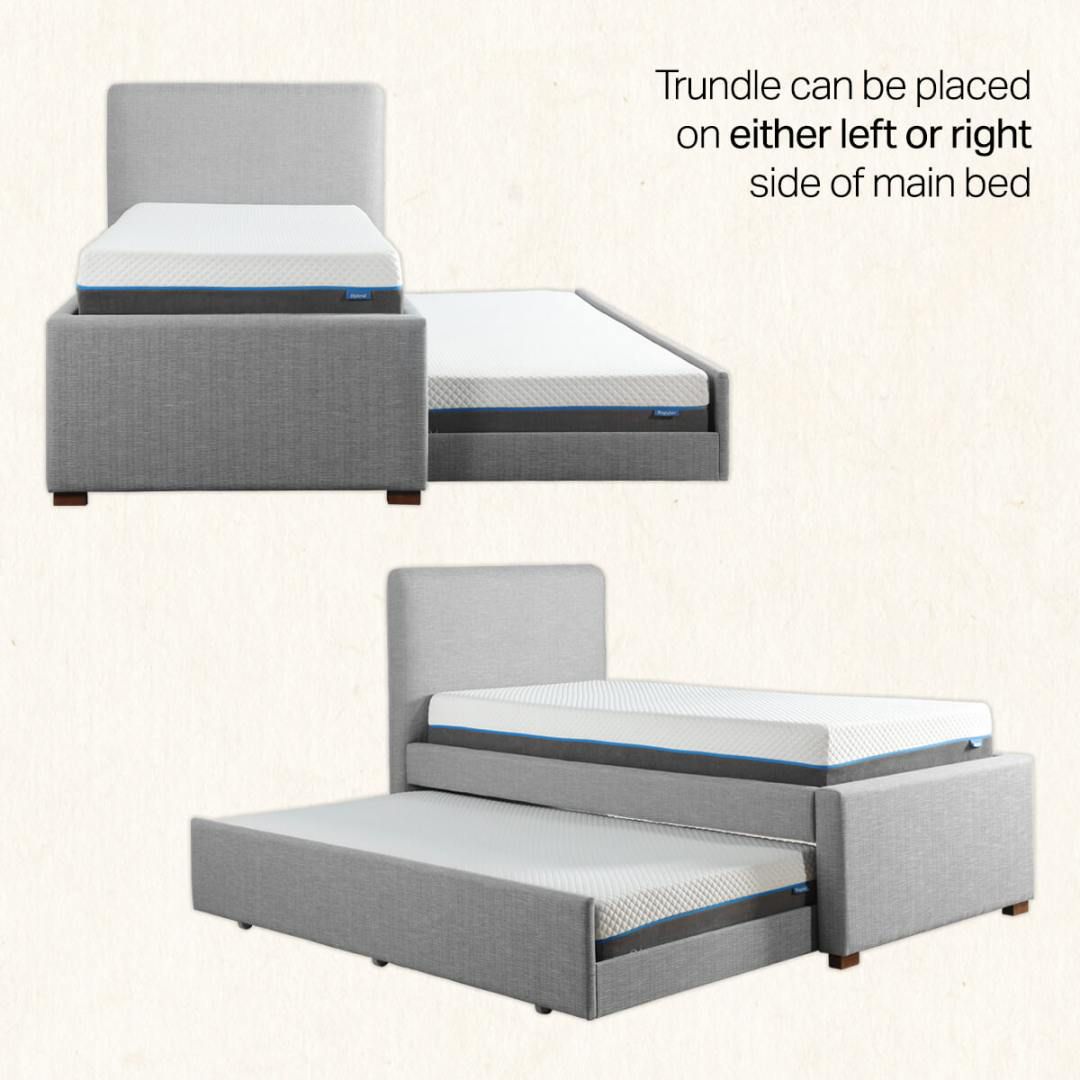 Imagine It How It Can Accentuate Your Space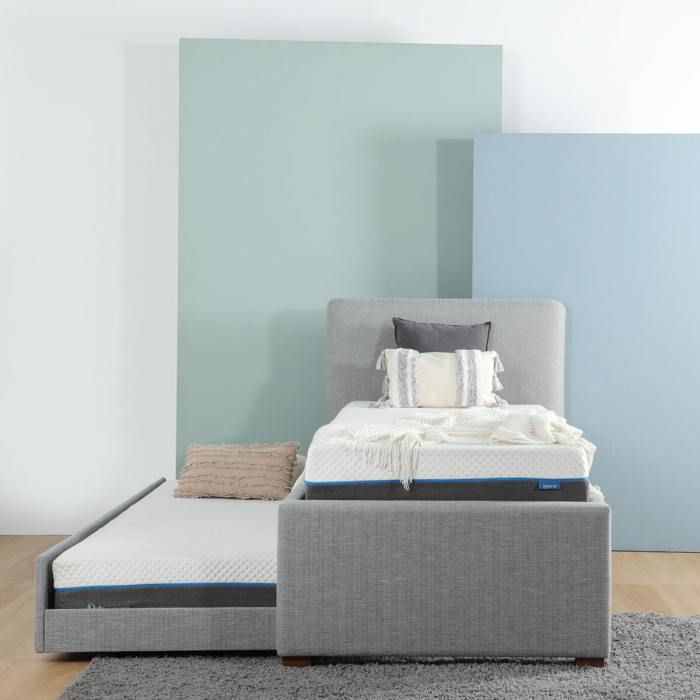 Product Specifications
Measurement(s)
Overall size:
OW2160(opened)/OW1100(closed) x OD2160 x OH1170
Main Bed Internal size:
IW940 x ID1950 x IH90
Wood Leg H40 x FH500
Trundle Bed size:
OW990 x OD1930
IW940 x ID1900 x IH70
Sideboard H170/340
Acronyms
OW - Overall Width
OD - Overall Depth
OH - Overall Height
SW - Seat Width
SD - Seat Depth
SH - Seat Height
AH - Arm Height
Thk -Thickness
Dia - Diameter
IW - Internal Width
ID - Internal Depth
IH - Internal Height
LW - Leg Width
LD - Leg Depth
LH - Leg Height
WH - Wood Plank Height
FH - Footboard Height

For all our office chairs, Arm Height (AH) and Overall Chair's Height (OH) is taken when Seat Height (SH) is fixed at 450mm. Should an office chair's SH be higher than 450mm, then AH and OH will be taken at the lowest available SH of that chair.
* All measurements given are in millimetres (mm).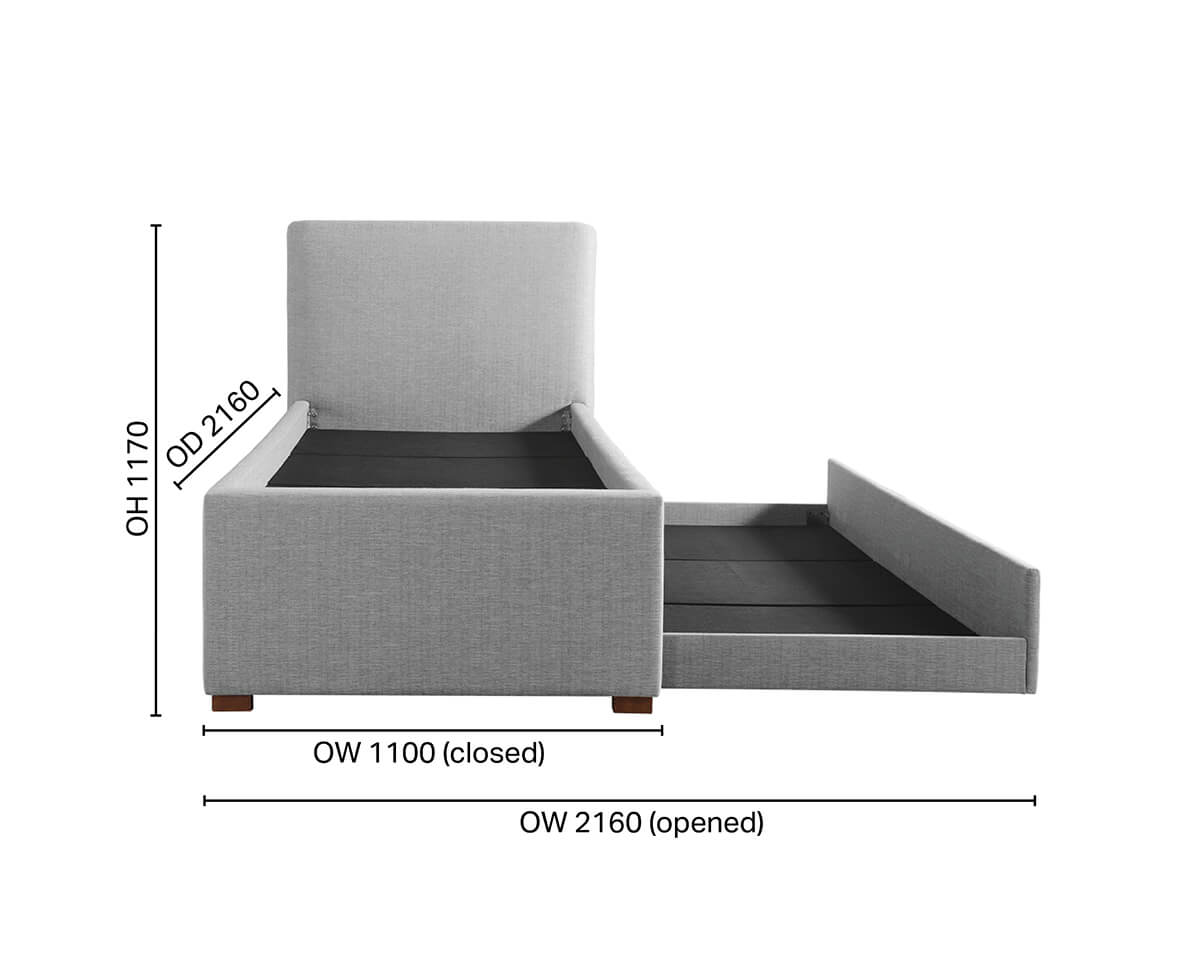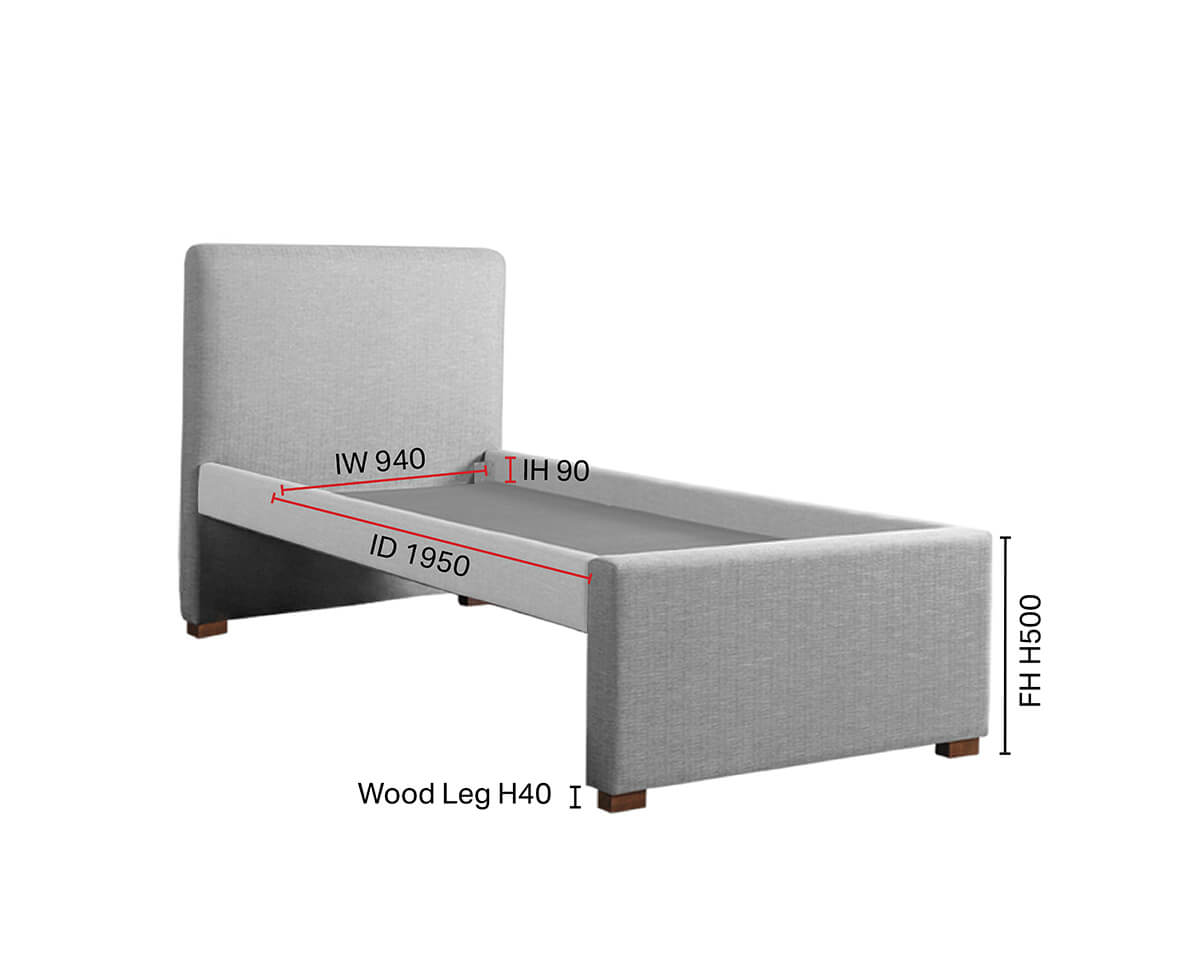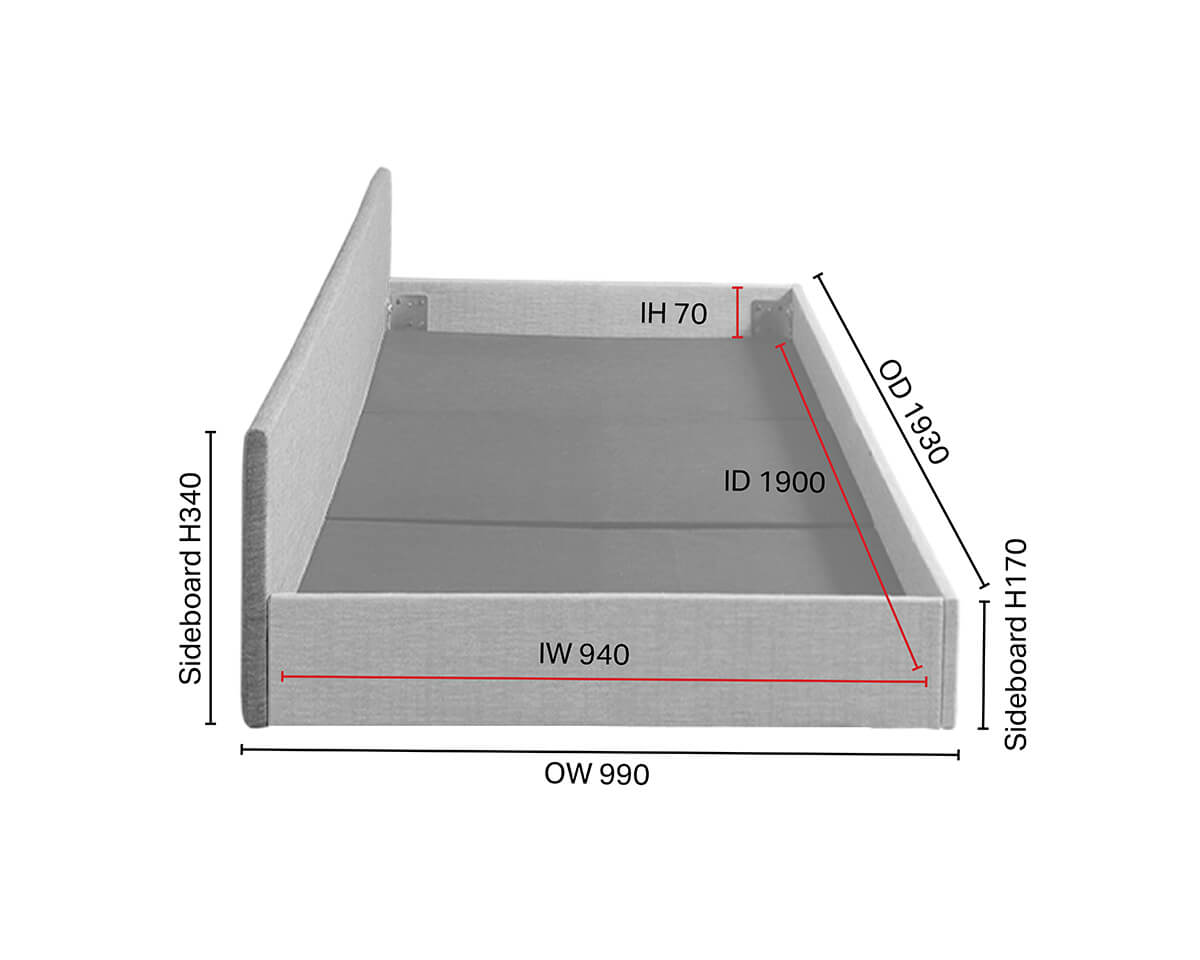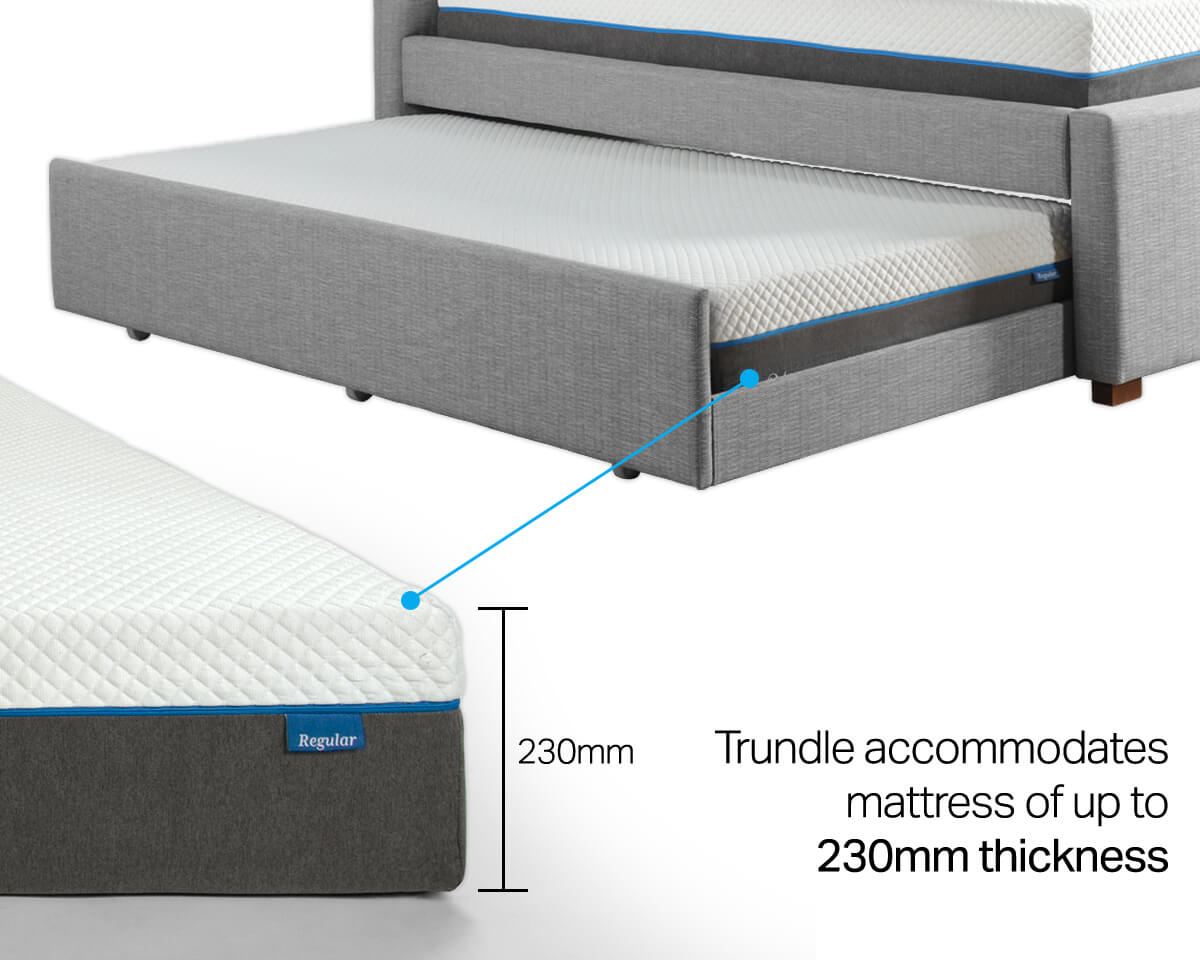 Q&AAny Questions? We are here to help!
Ask a question
Ask us question about this product. You will be notified via email when replied.
You need to log in first before asking question. Login now